A New Team Member You Should Know About —
The Animator, Mei Li
We opened our doors 25 years ago with the motto: Advertising that Moves People. Ever true to that credo, we're proud to announce that the brilliant animator and illustrator, Mei Li, has joined our team. To understand the depth of her talent and the range of her emotion, all you have to do is view her award-winning animated short: The Blue Butterfly.
To see more of Mei Li's work, please see her sizzle reel here.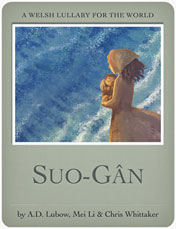 Please also enjoy the animated multimedia book that she created with agency creative director, Arthur Lubow. "Suo Gan: A Welsh Lullaby for the World" is now available on the iBooks store.
If you want to add true meaning and emotional depth to your films and social media, please email Arthur Lubow to begin the conversation. Our team promises to create something truly special for you and your organization. After all, if you want to move products and services, first you have to move… people.