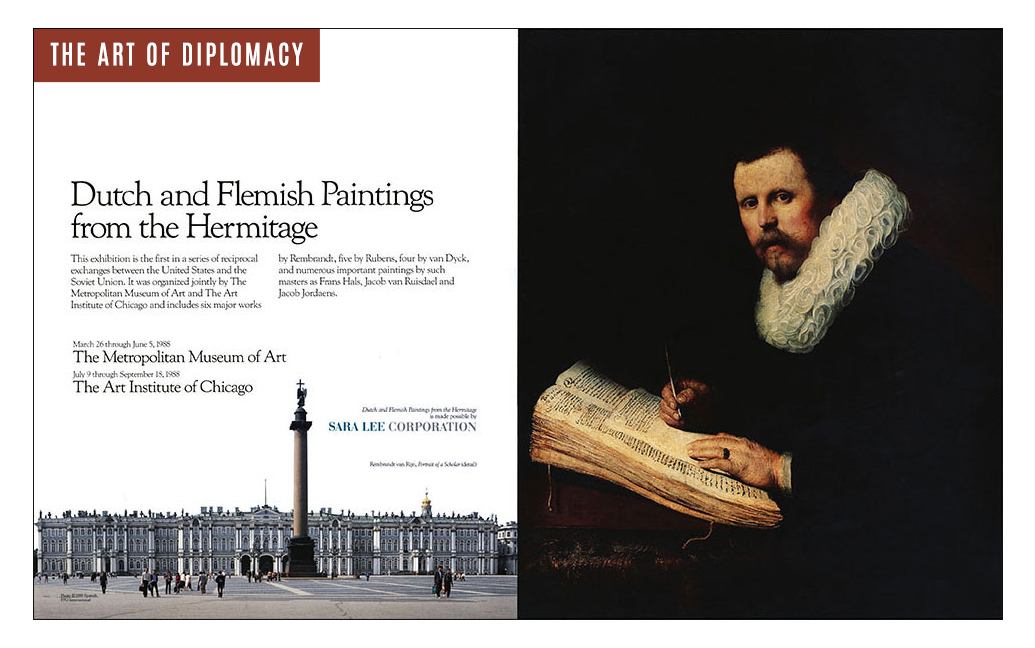 Next in our AD Lubow 25th Anniversary Series: THE ART OF DIPLOMACY. In 1985 no sooner had a Reagan-Gobachev cultural exchange agreement been signed, than Philippe de Montebello dispatched a cable and was on his way to the Hermitage Museum in Leningrad. From there, he would craft a series of inspiring exhibitions based on an unprecedented degree of reciprocal exchanges between major American and Soviet art museums..
The first exhibition was "Dutch and Flemish Painting from the Hermitage" which ran at the Metropolitan Museum and the Art Institute of Chicago beginning in 1988.  The second, in 1990, was "From Poussin to Matisse: The Russian Taste for French Painting." The late John Bryan, then President of Sara Lee and his brilliant Public Affairs director, Ron Culp seized the opportunity to sponsor the exhibitions. It was an ingenious way to elevate Sara Lee Corporation's image, positioning the company at the nexus of high art, multinational business and international diplomacy.
Working with Mr. Culp, Arthur Lubow crafted a message that encapsulated the importance of it all, headlined "The Art of Diplomacy." Looking back at our company's history, we can proudly say that the idea of promoting peace through the universally understood language of art is a thread that has always been a part of our company's DNA.  We at AD Lubow would like the entire Corporate Responsibility community to remember these groundbreaking exhibitions as the important steps they were in elevating the role of the art in human understanding.