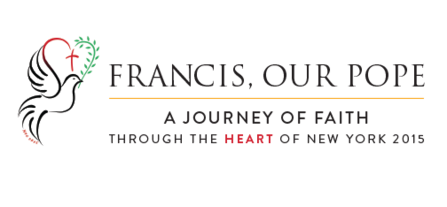 In his first homily as pontiff, Pope Francis wrote: "Journeying: our life is a journey, and when we stop moving, things go wrong. Always journeying, in the presence of the Lord, in the light of the Lord…"
When invited to formulate an identity and theme line for Pope Francis's visit to New York — a city built on the strengths inherent in diversity — we noted another of Pope Francis's writings: "When everyone allows themselves to be guided by the Spirit, they learn to treasure variety rather than letting it become a source of conflict."
Our plan welcomed Pope Francis back to the Americas, offering him a living pulpit — New York City — from which to extoll the virtues of Christ's teachings on tolerance, love, brotherhood and hope. After all, we reasoned, the Pope's trip is not only about family; it's about the family of man. What message, at this juncture in history, could be more critically important? And what city on earth has been a better model of diverse peoples living and working together than New York?
Toward that end, we offered the theme line:
FRANCIS, OUR POPE
A JOURNEY OF FAITH
THROUGH THE HEART OF NEW YORK
The dove reflects a faith—and a city—soaring: empowered by tolerance and understanding and heralding peace and love.
We also produced several videos including a short piece about the history of the Archdiocese of New York shown as an important part of the Pope Francis' Mass at Madison Square Garden. AD Lubow is humbled to have been chosen from among many fine firms to contribute to this historic event. Special credit to designer Mildred Lalica and the entire team.